The Customer Experience at Hybrid and Electric Car Sales LLC.
We are very different from any other car buying experience you have ever had. We promise you that! We are NOT a dealership, but a retail store. Our store aims to be everything that can be right with a car buying experience. This includes product knowledge, in depth documentation and inspections, transparent and clear pricing, no hidden fees, and after sale follow up and service. Our motto is transparency, we believe in being transparent in business, and believe in always doing the right thing before and after the sale. We do this because this is how we would want to be treated.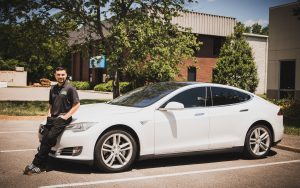 Our small family business, Hybrid and Electric Car Sales LLC, is in the Cool Springs region of Franklin Tennessee, at 616 Bradley Ct in Franklin, TN 37067. Our family business was founded in 2022 by Chip Geppi, and his wife Dr. Denna Geppi. Chip spent the last 24 years in the automotive industry, doing every job possible, and has branched out to bring this unique concept to Middle Tennessee, while being inspired by our own journey to find the most fuel-efficient vehicle that fits our customer's needs.
Chip and Denna met at Shippensburg University in 2005, and have two daughters, Giulia who is 3, and Mia who is 1, and an 11-year-old Yorkie named Tiffany. Chip Likes F1 racing (Forza Ferrari!), fishing, restaurants, and his art collection. Denna likes all things Target, home decor, iced coffee, and reality television. She loves living in TN and being an online college professor working from home! Go Mom!
Hybrid and Electric Car Sales will soon be a national brand with locations in over 30 major markets. As EVs become a larger part of the preowned market, we plan to grow with that also. While a small family business today, we will grow to be the nation's largest preowned hybrid and electric car retail store chain in the United States. Join us on our journey.